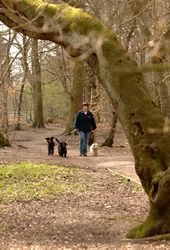 I do puppy visits, to let out, play with, feed and basic training. I feed clients pets for them when they are away on holiday.
I have three dogs of my own and know most of the walks in and around Harrogate. I can tailor walks to suit your dog. Older dogs or dogs recovering from an injury may prefer a shorter walk.
I previously worked in a veterinary practice for several years and can give medications including insulin injections for pets with diabetes.
I also look after cats, birds and small mammals including guinea pigs, rabbits, mice, gerbils and hamsters. I can also look after small pets at my own home.
Whilst you are away I can switch lights on and off, open and draw curtains, bring milk, post and newspapers in and put bins out.
I have subscribed to Harrogate Borough Council's Professional Dog Walkers Code of Conduct.
Services Include
It is essential that all dogs are up to date with all their vaccinations including Kennel cough vaccine.
Walks tailored to suit clients needs.
Shorter walks for puppies, injured or old dogs.
I can take the dog for a shorter walk and for example with puppies do a bit of basic training as well.
I walk small groups of dogs, so I can be in control at all times.
Dogs are walked on leads unless written permission given by owner.
In extreme weather e.g. driving wind and snow or heat wave, I take the dogs on a shorter walk to make sure they have relieved themselves and then spend the remaining time playing with them in a suitable area at their home.
All dogs will be washed off if wet and muddy, then towel dried with towels I provide.
I walk dogs and look after pets in the following towns and villages: Harrogate, Pannal, Burn Bridge, Huby, Weeton, Otley, Pool-in-Wharfedale, Castley, Leathley, Harewood, North Rigton, Crimple Valley, Fewston, Swinsty, Spacey Houses, Lund House Green, Knaresborough, Kirkby Overblow, Wetherby, Follifoot, Killinghall, Starbeck, Beckwith, Kettlesing, Beckwithshaw, Bilton, Hookstone Woods, Jennyfields, Ripley, Harlow Carr, Nidd Gorge, Menwith Hill, Darley, Clint, Kettlesing, Birstwith, Hampsthwaite, Scotton, Rudding Park, Goldsborough, Plompton, Flaxby, York.

Medication
Having worked in a veterinary practice for a few years, and having two dogs on regular medication myself, I realise how important and difficult it can be to give medications for certain conditions eg epilepsy and diabetes within the strict time schedules, especially if working shifts.
I can come and give the pet the medication including insulin injections on time either on a regular basis or just when you are unable to get back in time to administer the medication.